It's easy enough to print your company logo or message onto a pen or coffee mug and give them out to your potential customers. Many businesses do this, and achieve fantastic results, but if we deep-dive a little further, and ask ourselves what are we trying to achieve, then inspiring, creative promotional products can be created.
The products themselves don't have to be revolutionary, but if the message has a creative edge then suddenly your standard promotional product has turned into something extraordinary. Daring to be different with your branded promotional products gives your business a competitive edge. Your business is likely to be remembered, may engage more customers and finally give people a smile an 'ah-ha!' moment or shock them – all effective nonetheless.
We have seen some pretty impressive promo products created over the years here in New Zealand and globally, and the budgets do not have to be massive to achieve memorable and creative campaigns.
So without further ado, here is a list of 10 innovative and creative promotional product ideas
Security Tag (Breast cancer awareness campaign)
image credit the inspiration room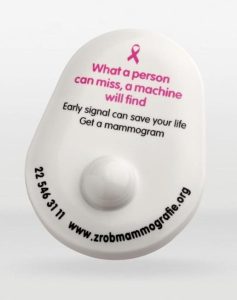 These branded security tags were added to bras by shop assistants after customers brought them. As the customers left, the tags then set off the security system. This idea drew attention to the reliability of machines being able to detect things far better than people, and was an incredibly successful campaign that won a few awards
Yoga Drinking Straw (Yoga Studio Promotion)
image credit Ads Archive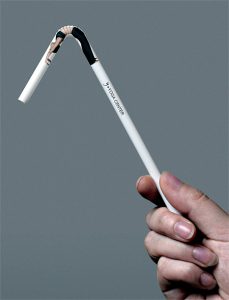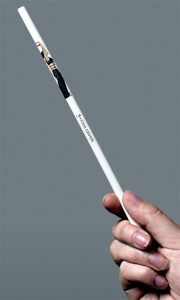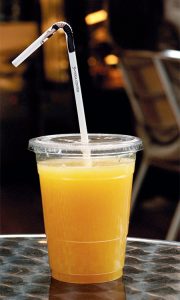 These clever creative promotional products were used to promote a yoga centre. The flexible straw design when moved shows a person in different yoga positions. They were given out at a nearby juice shop encouraging clients to join up – very cool!
Mirror Tattoos (Tattoo Parlour Promotion)
image credit copyranter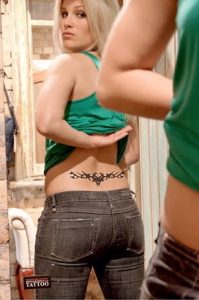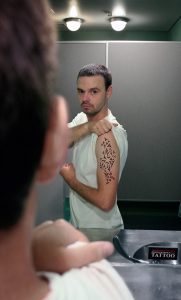 In a bid to encourage more people to get inked, you could "try on for size" these tattoos that were placed on mirrors in public restrooms and changing rooms to see how they look
Coffin Towels (Skin Cancer Awareness)
image credit copyranter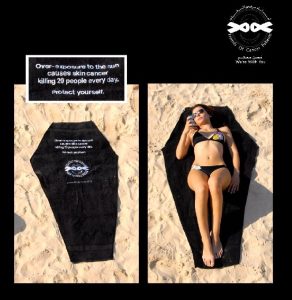 Raising awareness about the risks of sunbathing and skin cancer was the message behind these black coffin shaped towels. Certainly memorable and i imagine people wouldn't bather for too long after seeing one of these on the beaches of Dubai – powerful stuff!
Notebook Gift Set (Re-brand Promotion)
image credit Boost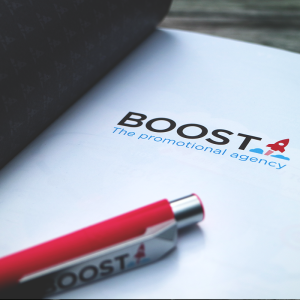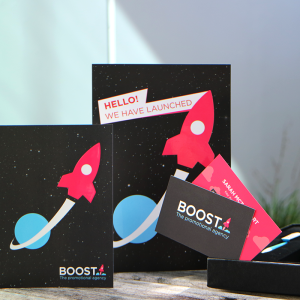 A standard notebook and pen with a twist. The first 8 pages of the notebook outlined the story of Boost promotions company re-brand these were perforated so could be torn out, and the clients were still left with an eco-friendly notebook. The gift packs were couriered to existing clients at the exact same time a new website and brand was launched to market
Fake Cockroaches (Pest Control Promotion)
image credit hoaxes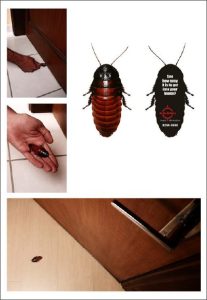 Slightly disturbing but equally effective marketing campaign, where fake cockroaches were slipped under peoples door. Once picked up the pest control message was printed underneath
Santa as the Easter Bunny (Alzheimer's Awareness)
image credit Hoaxes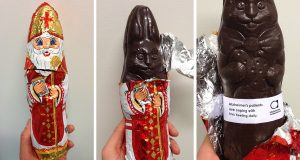 A Santa foil wrapped chocolate is unwrapped to reveal as Easter Bunny with the message on the inside to raise awareness about alzheimers "Alzheimer's patients are coping with this feeling daily."
Drawstring Bag (Nutrition Promotion)
image credit theinspirationroom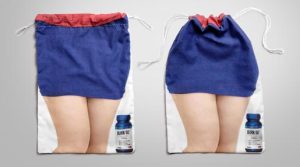 A clever gift with purchase, creative promotional product was for a nutrition company. Their products is a formula that boosts metabolism resulting in burning calories. The drawstring bag when pulled closed illustrates the potential to reduce ones waist line.
Car Magnets (VW Car Promotion)
image credit german car blog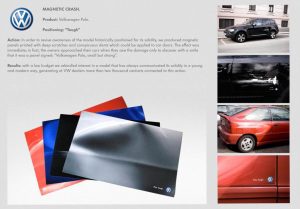 A heart racing campaign, magnets were printed with a dent on them & placed on people cars. Once the owner got closer they smiled when they read the sign "Volkswagen Polo, small but strong" reviving awareness of VW position in the market of solidity & being tough. More than 2000 contacts connected with this campaign.
Beer plugs (Tuborg promotion)
image credit ads of the world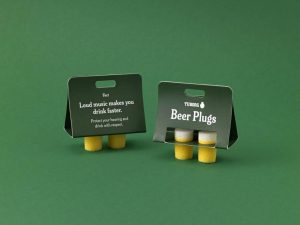 These ear plugs shaped & coloured like tiny pints of beer were given out to people at festivals to encourage responsible drinking. According to research listening on loud music entices people to drink more and faster, so wearing a pair of ear plugs was this promotional product solution for people to enjoy the music and their Tuborg beer more.
Want to make your very own creative promotional product?
Now that we are all feeling a bit more inspired, when it comes to next your next marketing campaign or branding for creative promotional products contact to the Boost Promotions team about a creative solution. If you need more inspiration take a peek at some of our work , or if you want to bring some big ideas then speak to our Mr Vintage design team!