The Boost Promotions team were honoured to be finalists & award winners at this year's APPA (Australasian Promotional Products Association) black tie annual gala held at the Langham. APPA recognises integrity, professionalism and creativity and is the only professional trade association specifically for the promotional products and promotional marketing industry in the Australasian region.
Mid 2017 The Boost team made an exciting change after 30 years in business by re-branding from Crippz Promotions to Boost Promotions – along with this change was a new name, logo, website and bigger team. To announce this change to the market Boost surprised their clients with a thank you for your support gift. It was a requirement that this gift detail the re-brand story, company history and be a gift that clients would enjoy, regularly use and keep. The chosen product also needed to demonstrate Boost's capabilities as a promotional marketing agency, serving up quality, creativity and innovation, while communicating the re-brand message.
The end result was a customised notebook, high quality pen, personalised card and business card housed in a prestigious gift box packaging. The judges said "The note book is beautifully presented and would be well used, the section for writing important notes with page numbers, insightful." To an exceptional standard, the Boost in-house marketing team designed and wrote the re-brand story (consisting of the six customised pages that were printed and with perforated edges). Having tear away pages meant that clients could read our story, but also remove the pages if they desire – maintaining the marketing material or utilising the product as a high-quality off-the-shelf item.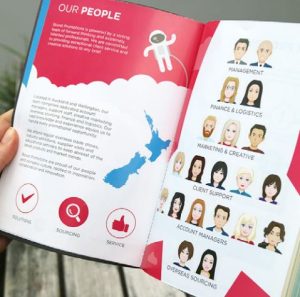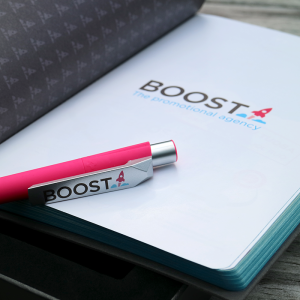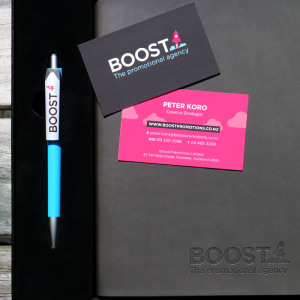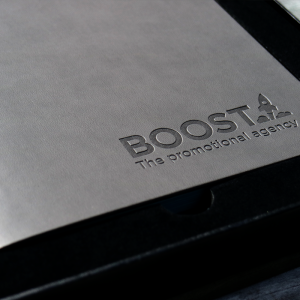 The Boost re-brand gift set was entered into the category for self-promotion, which refers to products/programs to promote sales or refine the brand of the distributor company.
Boost were delighted to come 1st place in this category and accept the industry award. The judges said "A great example of branding where the story of the company is maintained and strengthened. A quality product that any customer will be delighted."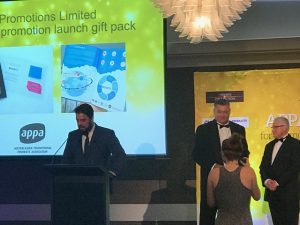 Boost also played their part in considering the environment, as the ecological paper stock was from sustainable forests, using clean energy without the use of harmful chemicals and a new tree is planted for every tree felled. This also sat well with the judges who noted "Brilliant to use sustainable paper in the note pad, and good subtle branding. Good delivery to ensure traffic to website."
As one of New Zealand's leading promotional agencies for kiwi businesses, we are proud to be promotional product industry advocates, and continue to encourage creativity among our clients. If your business is re-branding or wanting to make a splash in the market with unique promo ideas and campaigns our team of experts are on hand to help you get started!