From school drop-offs to grinding motorway halts, it is safe to say in Auckland most of us spend an awful lot of time in our cars. Whether we are commuting long distances or just nipping down the road, a long slithery snake of red tail lights is bound to be in our pathway causing us delays. Although we don't quite measure up to the worlds largest traffic jam which lasted a whopping 12 days in China.
Auckland's congestion has certainly increased as more cars are being registered year on year, but being a motorist in Auckland is not all bad. Having a vehicle means we can access all the wonderful hidden gems around our stunning coastlines giving us flexibility and independence. With cars being much more reliable and modern we can enjoy a stable 22 degrees from air conditioning, stream and listen to just about any music or pod casts and not endure a workout on a 3 point turn or parallel parking with the beauty of power steering and backing cameras.
With this ever growing collective of motorists how can your business promote your brand to this market? Below is a selection of car promotional items that we think would work well for car dealers or businesses that want to give products to consumers with vehicles.
Car battery charger set
Car battery charger set, with a 10,000mAh battery, one with the European plug and one with the plug for the lighter connection in the car, and a set of jumper cables, all packed in a nylon (600D) zipper bag.
Car breakdown kits
Handy car kit in a 600D woven polyester case. Containing a pen and pad, tyre gauge and flashlight with 2 x AAA batteries. Comes packed in deluxe polyester case with Velcro closure, then in white tuck box. Max Branding Area: Screen: 60mm(w) x 70mm(h).
Car Number Plate
0.5mm Aluminium number plate printed up to 4 spot colours with embossed design and frame. Features 2 punched holes and folded edges for rigidity. Up to 4 colour Screen print and embossing via sea freight included in price.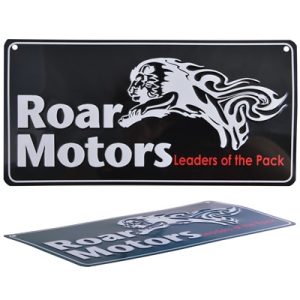 Car sun visors & sunshades
Set of two nylon car window sun shades, each with two black suction cups and supplied in a PVC pouch.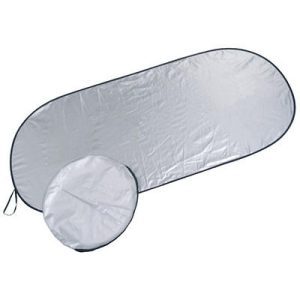 Car boot shopping bags & organisers
Organise the shopping with a handy tote bag for the car boot
Car mobile phone chargers & accessories
Car charger which is compatible with any standard cigarette lighter port and LED power indicator.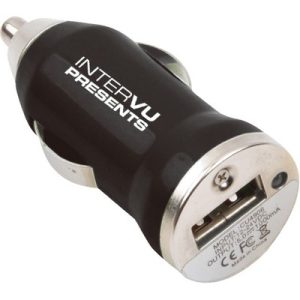 Car umbrellas
Entry level golf umbrella designed to meet a limited budget. 75cm radius, manual open/close, 8 double ribs chrome plated steel, main shaft chrome plated steel, light stain wooden handle & polyester fabric.
Car dry towel
Car drying towel in frosted white cassette.
Car fans
Mini fan with USB port, rotatable up to 360.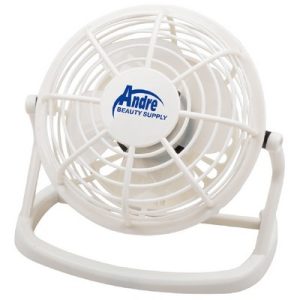 Car stress balls
Great for giveaways and for fidgety passengers
Takeaway coffee cups
Reusable 480ml coffee cup with a heat resistant silicone band and a screw on lid. It is manufactured from tough BPA free, food grade polypropylene which is dishwasher safe. Design your own Express Cup with 288 different colour combinations available ex stock.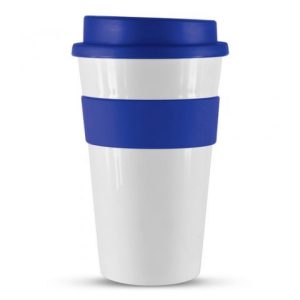 Car safety belt cover
Material: 3.5 mm thickness neoprene.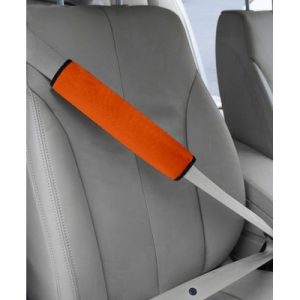 Car Flag
Fly the company branded or campaign event flag high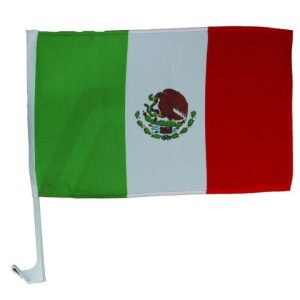 Sun glass car clip
Beetle shaped holder for sun glasses and driving glasses which fits onto vehicle sun visors.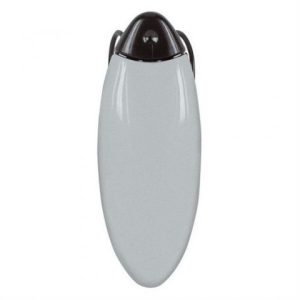 Keep the car tidy
Reusable litter bag which is ideal for use in cars, boats, trucks, heavy machinery cabs etc. It is manufactured from robust 210D polyester and features a secure Velcro base closure which makes emptying it very easy. Other features include an adjustable woven strap with a snap lock release and an expandable opening which allows the bag to hold larger items like bottles and cans. Each Car Tidy has an instruction leaflet inside it.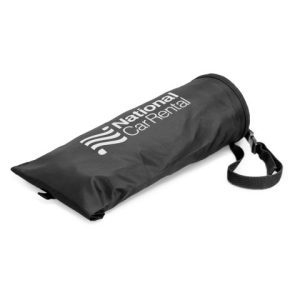 Mobile phone holder 
Plastic mobile phone holder for in the car, to be attached to the ventilation grill with included clip. The brackets can expand to 8.3cm.
Car air fresheners
Cardboard air freshener for cars which will keep working for one month or more once opened and can be stored for 12 months unopened. Pine, Lavender, New Car, Vanilla, Forest, Ocean Scent, Black Ice and Strawberry fragrances are available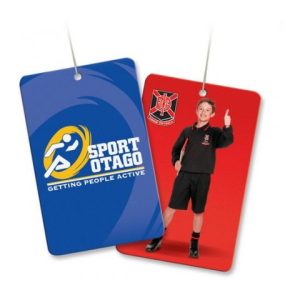 Car cleaning kits (car wash mitt, cleaning products)
Absorbent cotton cloth for washing and polishing cars which can also be used as a bowling cloth. It is supplied loose packed or can be folded in a re-sealable poly bag for an additional charge.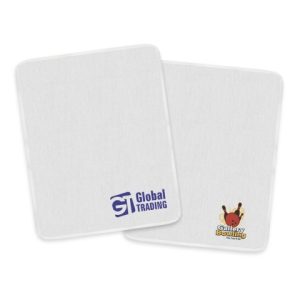 Tyre covers or Tyre gauge
Tyre Gauge. Make sure your tires have the right pressure; this will lead to less CO2 emission and also less fuel consumption. Measures bar/Kpa and LBS.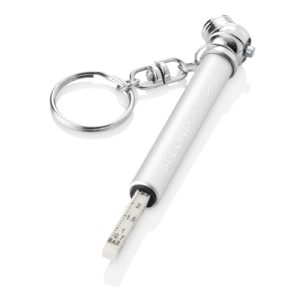 Emergency kits (soft fleece blanket, first aid kits)
First aid kit includes 5 adhesive bandages, 4 alcohol pads, paper tape roll, 2 safety pins, 5 gauze pads, 1 gauze roll, 1 triangular bandage and scissors in case.