LivNow Action Camera now available!
Get the best sport action shots in any situation with this go-pro style Waterproof 720 HD Action Camera Camcorder.
This tech-smart LivNow camera can be used as a dash-cam in cars, as a helmet-cam for action sports, for capturing sports moments and even underwater!
This promotional camera makes a unique corporate gift and allows your customers to shoot superior quality video and images, wherever they are.
This compact Action Camera makes sharing outdoor movies and memories easier than ever.
720 HD video / 30fps (1080 interpolated), 8MP images (12MP interpolated)
Waterproof to 30m
Super wide angle lens 120 degrees
2 inch LCD, Multi language
Takes up to 32GB Micro SD Card
900mAh Battery (1.5 hours)
Micro USB cable
Weighs – 150 grams
15 piece accessory kit included
The accessories include a waterproof housing for the camera, a helmet mount, a handle bar mount, a selfie stick / tripod mount, a windscreen mount, 2 tie down straps, 2 velcro straps, 2 adhesive pads for mounting, a USB to Micro USB cable, a safety cable, and 2 angle adjusters.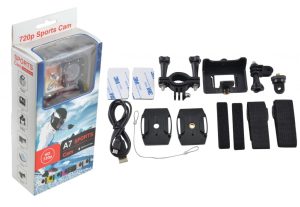 With three models available, you can login and shop online now.