Our clever clients at OH GOSH worked with Yellow® to create a space at the Auckland Fair where they could interact with event visitors. Yellow® wanted something with a digital focus that also showed handmade touches, and encouraged face-to-face conversations.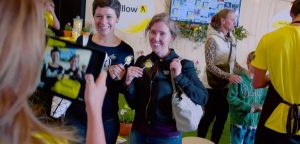 OH GOSH created the social backyard cinema, styled to be welcoming and feel homely, while being beautiful enough that visitors will want to take photographs and share the pictures through their social networks. The cinema centred around a large screen, showing a social feed of visitor's images. Roving photographers snapped visitors who then got the chance to win a cash prize.
Crippz Promotions were happy to help with the staff uniforms for the photographers, who wore custom designed and branded gardeners aprons with yellow buttonaires.
Styling of the space was was beautiful and functional with live flowers, lemon and lime trees, feijoa trees, palms, fresh flower wreaths and lots of different welcoming seating.