If you are you looking for the perfect present or christmas gift to give your clients or staff, look no further then these delicious, crowd pleasing chocolate gifts! They are beautiful, edible and unique – ensuring a positive & memorable experience for the receiver. They can be given as individual gifts, or to a whole team to share. The chocolate gifts mostly comprise of a bottle of beer like Peroni, mini spirits or Moet bubbles, and a selection of fine chocolates such as Ferrero Rocher, Belgian Milk or Lindt
All time favourite Luxury Moet Champagne & Chocolate Bouquet
Your gift recipient will be the envy of family and friends with this gorgeous crimson bouquet. A bottle of luxurious Moet and Chandon takes center stage amidst a red sea of Ferrero Rocher and Belgian milk chocolates. Designed for those who wish to make a statement with their gift giving. 750ml bottle of Moet and Chandon champagne, 10 Ferrero Rocher Chocolates. 20 solid Belgian milk chocolate stars from Chocolatier & Keepsake Gold Bucket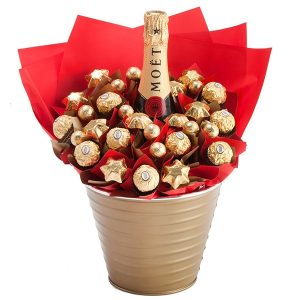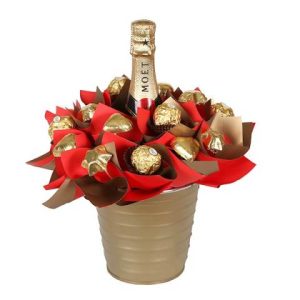 Don't like sweets? Try our Cheese Gift Hampers Instead
If you don't have a sweet tooth, then we can also offer amazing Cheese gift hampers, which include a delightful range of New Zealand cheeses such as Whitestone, with yummy Liver Patee,  Cheese & Basil Flat bread, with a cheeseboard, knife & hamper tray that can be kept after all the goodies have been gobbled up!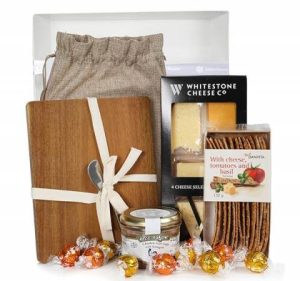 Christmas Gifts for Males & Scotch Lovers
They say a way to a mans heart is through his stomach let us help you spoil the man in your life with the Man Can or Chivas Regal Premium Scotch Whiskey & Lindt Chocolates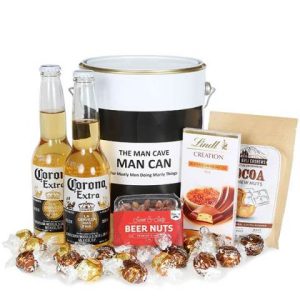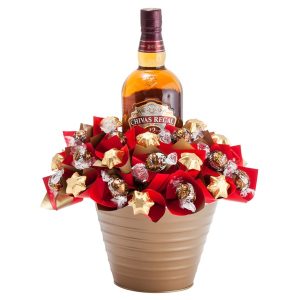 Chocoholic Madness – Alcohol Free Christmas Gifts
Creme Brulee Lindt Bouquet is heavenly – full of Lindts and Belgian chocolate. Perfect gift for those that love chocolate. 1 Creme Brulee Lindt bar (100g), 5 Hazelnut Chocolate Lindor Balls, 5 Ferrero Rocher chocolates, 5 solid Belgian milk chocolates from, Chocolatier, Keepsake white tin. Or try out the Happy flower bouquet with 60 gourmet chocolates arranged in our most colourful design it's easy to see why this beaming beauty is one of our most popular gifts! Perfect for men and women of all ages, and even better as a centrepiece this gift is sure to delight.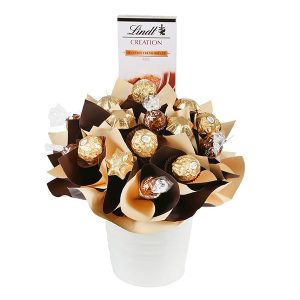 We think your staff or clients would be pretty thrilled to receive any one of these chocolate gifts for a thanks, reward, or even as the end of year Christmas gifts. Talk to us today about edible chocolate or savoury hampers, and how we can help with any of your Christmas gift ideas or promotional products. Or if you need even more inspiration then why not combine it with a Mr Vintage unique custom made branded item made specifically for your company, find out more about iconic kiwi brand Mr Vintage and how they might be able to help.